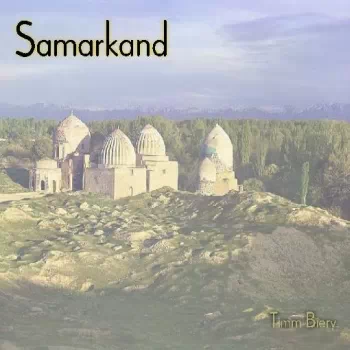 Samarkand is available on CD in The Shop and via download at Bandcamp
The pieces in this project were originally written for the now defunct Bengal Bay Tea Company, and were released on an album called "Tea Musik" in 1999. Other contributors to that project were Bill Danoff (of Starland Vocal Band fame and writer of "Take Me Home Country Road"), Jon Carroll (another member of SVB, Jon's worked with Mary Chapin Carpenter's group, and is a noted writer/producer), Harry Blevins (a songwriter from northern VA, who was also the project's executive producer), and D.C. area guitarist David Kitchen. All of us worked separately on our contributions with Harry serving as the go-between with the company's founder.
The concept was to craft pieces to serve as background music for drinking the company's tea. The company's founder, however, wanted the music to be "interesting to listen to" if one chose to actually focus on the music. I think all of the pieces from the album hit the mark, and it was cool to hear the different interpretations of that concept from each of us. Unfortunately, this album has been out of print for some time now.
When I came upon the masters at the studio, I listened to this music for the first time in years. Plans to release updated versions of my contributions to the project began to take shape, and I'm happy to announce that this album (which I've called Samarkand since I began recording these pieces) is now available for purchase in The Shop.
This is very different music for me. I approached it from a purely compositional sense, and tried to set aside the idea of making music I've traditionally followed (read: no burning drums!). It offered me the opportunity to use my orchestration chops (which I don't get to use very often), as well as the chance to focus on combining acoustic instruments, synths and samples in ways that were new to me at the time. Even Bill Wolf (the mastering genius behind many of my releases as a producer) commented that he had no idea I could do all this stuff. I took that to be a great compliment.
Be sure to check out Timm's other releases in our Shop and on Bandcamp.