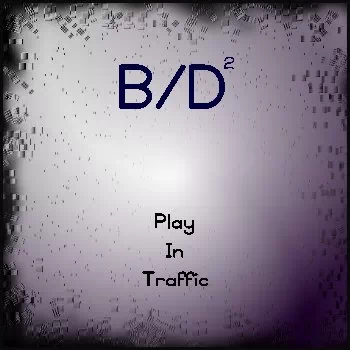 "Play In Traffic" from B/D2 is available on CD in The Shop and via download at Bandcamp
B/D2 (Bass / Drum Squared) was one of the defining musical moments of my life. This collaboration between John Previti, Wade Matthews, Michael Zack and myself grew out of double drumming sessions Michael and I did in 1997. We had no idea what would come from playing together, only that we needed to. When we listened back to the recordings from those sessions, two things became clear to us: we had to release them at some point in the future and we had to find other guys to play in this "conversational" mode with us. To me, the logical choices were JP and Wade. Frankly, I was surprised that they were so into it, what with the extremely busy schedules they had at the time, but now I look back at it as inevitable.
When we all converged on my Beltsville, MD studio that first day, we decided upon some "rules of engagement", so to speak. They were:
Do not speak about the music, speak through the music
Play tastefully (at least most of the time!)
Quote as little from other tunes as possible
Go further
Everything we played was recorded in an "advanced archival" manner. This means the drum kits were minimally mic'd (stereo overheads and a kick drum) and the basses were taken direct into the console. Bass monitoring was done through the studio's Klipsch La Scala speakers, so there was a bit of leakage from the basses into the drum mic's. Any effects heard on the recordings were added by the players as they played, not in mixing.
The very first thing we ever played (or spontaneously composed), is the piece entitled "Jimi & Mitch", an excerpt of which appears below. When we stopped to listen to playback, I was on a high that I'd never experienced before. I soon found out that was true for all of us! We couldn't believe what we had just done - it was as if we were reading each others' minds at times. And, as you'll hear, we managed to follow the rules we'd laid down for ourselves (in fact, the title comes from a very brief quote from Hendrix's "3rd Stone From The Sun", which occurs much later in the piece). After listening, we went back at it, and played straight through for another hour or so that day. The other excerpts are from those pieces, which we gave titles to at the time. "Run, Don't Walk" came from another brief quote of the Venture's "Walk, Don't Run (which again happens later in the piece) and "Canticle" just seemed to be the right name for this piece, included in its entirety.
We got together 2 more times after this first day, recording everything and ending up with close to 8 hours of music. During this period, word got out that we were working on this project, and there was a sizeable buzz in the DC area music scene about it. All of us recall being asked about B/D2 at various gigs and music stores. We were hopeful we could get a record released, then do a few shows to promote it. There was even talk of doing a "B/D2 Big Band" - adding horns and a keyboard player to our spontaneous compositions. The late Tim Eyermann and a couple of players from the Army Jazz band were interested in taking that leap with us. But as often happens, a record deal could not be secured (the companies approached just sort of cocked their heads to the side like the RCA dog and didn't grasp what we were attempting). Michael and I took a shot at forming our own record label, but various things stopped us short of success. Time went by - we were all pursuing and promoting other projects, families, etc., etc. Still, B/D2 never left our thoughts. We all hoped that this project would eventually be released in some form, and that finally happened when we made it available through The Shop in 2007.
I must warn you - these excerpts are pretty long! They need to be, in order to convey a true sense of what was going on in the music. Short excerpts of so-called "free" music can sound like a disjointed mess. And while some may say that's what this sounds like anyway, those of a certain disposition will "get it". Unquestionably. There's a lot of melody in these pieces, but it's occasionally rhythmic melody. It's music you must listen into. It can be a bit difficult at times, but it's well worth the effort.
Throughout these recordings, Wade's bass and Michael's drums are to the left, John's bass and my drums are to the right.
I'll leave you with an observation brother Wade made shortly after these sessions. He said: "You know, when we were younger and jamming, it was all about how fast you could play. Now that we're older, it's all about looking for the right part to play..."